Day 46 of "365 Things to do in Cincinnati" takes us underground… on the Queen City Underground Tour.  A new addition to the Newport Gangster Tour lineup, this experience takes place on the "Ohio side of the river".
Special Note Here: All proceeds from the Queen City Underground Tours on Memorial Day Weekend will go to pay for their teacher and student mission trip to Jamaica this summer.  Help them raise funds for their mission trip by attending a tour this weekend!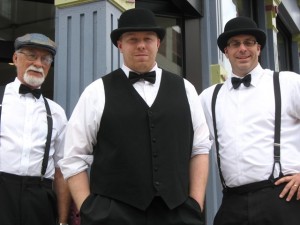 The "Queen City Underground: Breweries, Bosses and Burials Tour" is a walking tour that takes place in the Gateway District.   Once known as "The Paris of the United States", this area is said to be the home to America's largest intact set of historical landmarks.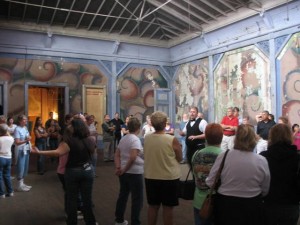 The Queen City Underground tour will take you places you may never get to see otherwise.  As the tour progresses you will hear stories detailing this area's rich German heritage.  The picture above was taken in what used to be a German indoor beer garden.  The room was incredibly huge and standing in it makes one imagine the fun that went on in that room.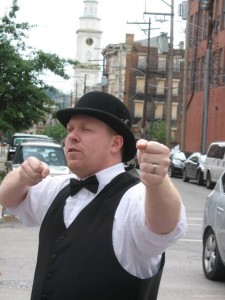 The group of teachers that lead these tours really did their homework.  The tours are full of stories, facts, and legends about the great people who helped shape Cincinnati.  Our wonderful tour guide Jerry (above) is recounting a story of an entertainer who shot arrows at his wife… and hit his target!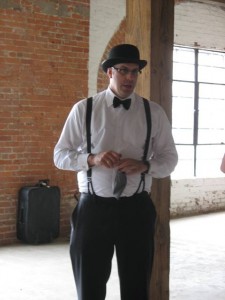 You might recognize our tour guide from Newport Gangster Tours above ("Mac").  He's a great storyteller and a fabulous tour guide.  The picture you see above was taken in an unfinished floor area of a restored building turned loft style apartment complex – one that had a hidden treasure below…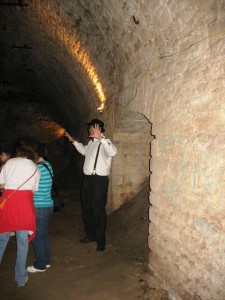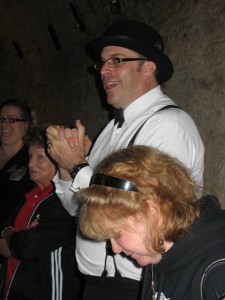 We changed venues a number of times and at each stop our tour guides told some stories of the "the Bosses" of that part of the block as well as facts about the building itself.  Some stories (and visits) included "Breweries" too – and you won't believe how much beer those Cincinnati folks drank!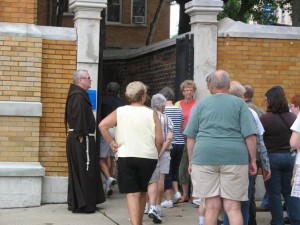 The last part of our tour took us into the St. Francis Seraph priest's personal residence.  While we stood in the courtyard outside we learned all about the Irish church that once stood on these grounds and the Germans who later built the structure that is now the St. Francis Seraph Church.  Then we went inside to see what is UNDER the personal residence… and I will leave that for you to discover on your own when you take the tour!
Being Cincinnati born, I thought I knew a lot about our city.  After all the events and tours that I have experience over the last 46 days, I know that I am just scratching the tip of the iceberg!
This is a walking tour and you will need to climb up and down a number of stairs.  I would highly recommend wearing gym shoes.  You might also get just a tad dusty so don't wear your Sunday best!

The Queen City Underground Tour is just $15 and lasts about two hours.  Tours take place on Saturdays starting at 10:30am.  You will find all the details on their site: Queen City Underground Tours