Here we are with another installment of "365 Things to do in Cincinnati" and today we are featuring Stuart Fink's "Shape to Shape" exhibit at the Brazee Street Studios.
Stuart Fink has been creating art here in Cincinnati for over forty years.  The "Shape to Shape" exhibition is his first show in five years.   The exhibit features over twenty pieces of wood and bronze sculpture plus a selection of his drawings and his Q-Tip paintings.
The exhibit is divided into two rooms.  One room focuses of Fink's "newer" passion – wood sculptures.  Full of intricately cut shapes and beautiful artistry, these pieces are works of wooden art.  This room also holds a number of his larger drawings as well as a few of his "newer" Q-tip pieces.  An adjoining room showcases his bronze work.  You can see this man's passion and love of art in every piece he produces.
Stuart Fink created many public art pieces as well including pieces on display at The University of Cincinnati, The Columbus Airport, the city of Lima, the city of Toledo, and more.  You might be familiar with one of his pieces that can be found at Piatt Park (downtown Cincinnati).  This public project is a fountain (seen below), dedicated in 1989 in memory of Isadore "Izzy" Kadetz (of "Izzy's").
I don't typically showcase the exhibit of a particular artist BUT I wanted to showcase this one as it involves some fabulous art (Stuart Fink's) and it is held at The Brazee Street Studio, which is worth a post all its own.  I will do a full post on the studio itself later but I want to share some highlights here too.  You don't want to miss the opportunity to see the school of glass if you go to see Stuart Fink's exhibit.
Brazee Street Studio is located in Oakley, just off Madison Road.  The Studio is really more of a compound! There are a few buildings in the mix.  The main building (above) holds gallery One One (where Stuart's exhibit is housed) PLUS some pretty cool "school of glass" space including classrooms, a glass shop, and kilns.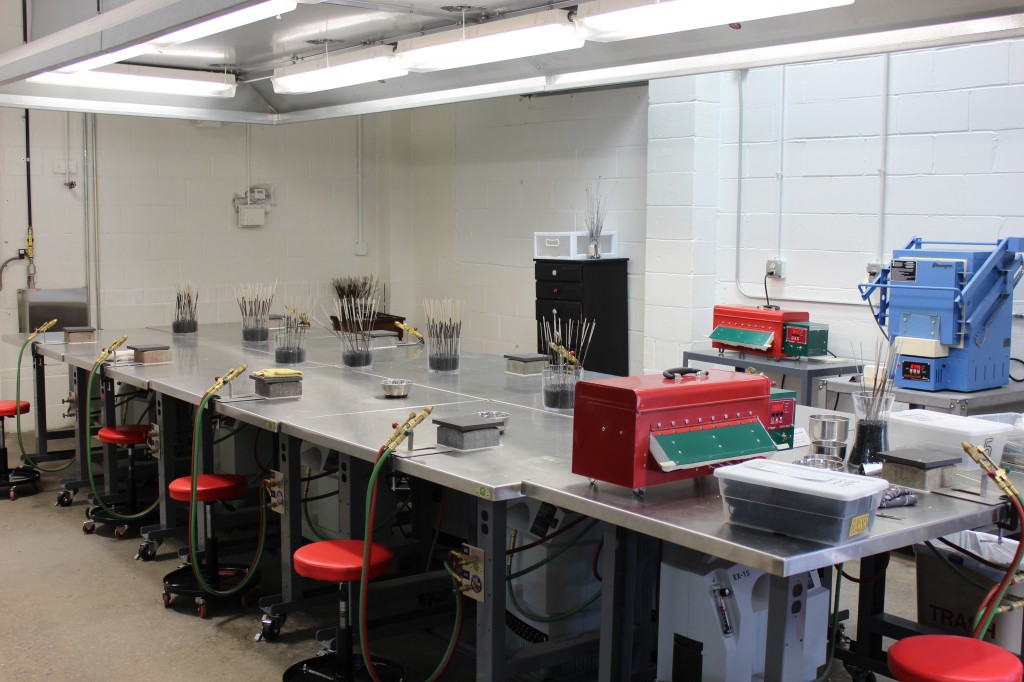 They hold all kinds of classes and camps, for both adults and kids.  They have classes for beginners and experienced students.  They bring in visiting instructors from all over – people who are experts in their fields (lampworking, fusing, etc.).  They host private parties and will even work with you to create your own custom glass project.
A second building houses more of a "furnace-type" atmosphere.  This building houses kilns and space for larger glass making crafts.  We stopped by as they were making glass centerpieces for an upcoming local event.
In between the buildings, they make good use of the natural grassy areas to encourage a natural habitat for butterflies, caterpillars, and the like.  Wildflowers and perennials are abundant. They even have a few bee hives.  It's a nice surprise amidst all of the more modern-looking spaces.
Stuart Fink's work will be on display at his "Shape to Shape" exhibit at gallery One One at Brazee Street Studios, August 10-September 21, 2012.
Connect with Brazee Street Studion on Facebook 
* photo credit: http://oosi.ulib.csuohio.edu/scripts/sqloosi/oosipage.asp?vcount=485