365 Things to Do in Cincinnati has teamed up with Cincinnati Playhouse in the Park to offer a four-pack of tickets to Brighton Beach Memoirs, a delightful coming-of-age story from one of comedy's all-time masters.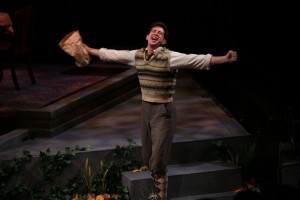 It's 1937, and 15-year-old Eugene Morris Jerome lives in close quarters with his extended family. While the daily dramas of his parents, brother, cousins and aunt swirl around him, Eugene spends his days dreaming of playing for his beloved Yankees … when he's not thinking about girls or setting the table for dinner.
Neil Simon's semi-autobiographical play is a heartfelt love letter to his own Jewish childhood and proof that family harmonies and disharmonies transcend time and place.
Brighton Beach Memoirs is at the Playhouse in the Park from October 13 – November 10, 2012.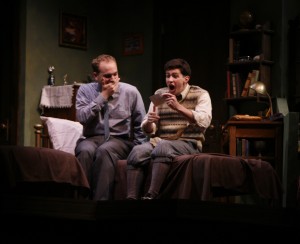 Tickets for Brighton Beach Memoirs start at $30. Special price for teens. Brighton Beach Memoirs is recommended for ages 13 and up.
For more information about the show or to purchase tickets, call the Playhouse box office at 513-421-3888 (toll-free in Ohio, Kentucky and Indiana at 800-582-3208) or visit www.cincyplay.com.
We have a 4-Pack of tickets for Brighton Beach Memoirs to GIVEAWAY!
We have three ways to enter and you may do each and every one!

1. Simply leave a comment on this page (below) and tell us if you've ever been to see a play at the Playhouse in the Park.

2. Head over to Facebook and check out the Playhouse in the Park page and then come back here and leave another comment saying you did that

3.  Sign up for our newsletter and leave us another comment below telling us you did that too
We will choose one winner (at random using Random.org) on Wednesday, October 17, 2012 at 9pm. The winner will receive 4 tickets to Brighton Beach Memoirs, good for a performance from Oct. 18 – Oct. 26.   The winner will receive information about picking up his/her tickets via email.
Pesky details: Each ticket to the show will admit one. We will email the winner at the email address provided. The winner will have 24 hours to get back to us to claim the prize. If we don't hear back from the winner within 24 hours we will choose a new winner. No purchase is necessary to enter or win.  Void where prohibited.
Disclosure: The kind folks at the The Cincinnati Playhouse in the Park gave us these tickets to give away.