Blue Man Group is coming to the Aronoff Center!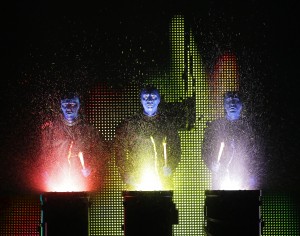 Blue Man Group is best known for multi-media performances that feature three bald and blue characters who take the audience on a journey that is funny, intelligent and visually stunning. Although it is impossible to describe, people of all ages agree that Blue Man Group is an intensely exciting and wildly outrageous show. With no spoken language, Blue Man Group is perfect for people of all ages, languages, and cultures.
Blue Man Group is now on the road for its first US theatrical tour and is coming to Cincinnati as part of the 2012-2013 season for Broadway in Cincinnati. This unique experience is a form of entertainment like nothing else; guaranteed to be an outing you will never forget.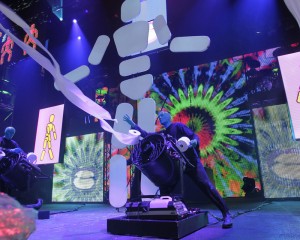 The New York Times heralds the show as 'One of the most delightful performance pieces ever staged'. E! Entertainment News exclaims, 'Blue Man Group is what every live performance aspires to be'. The Baltimore Sun raves, 'Blue Man Group packs a wallop. It's a big, loud, funny, silly, visually arresting production!
Blue Man Group will play The Aronoff Center from October 16 – 28, 2012.
Tickets for Blue Man Group begin at $28 and are available at the Aronoff Center Box Office downtown at 650 Walnut Street, online at CincinnatiArts.org or by phone at 513.621.ARTS. For groups of 10 or more, contact the group sales department at 513.369.4363.

We have a winner – congrats to Shawn C.  Shawn, check your inbox for my email!
 And we have a Blue Man Group Prize Pack (including tickets) to GIVEAWAY!
Our Blue Man Group prize pack includes: a pair of tickets to see "Blue Man Group" on Opening Night (October 16 at 8pm) at the Aronoff Center plus a BMG water bottle, coffee mug, magnet and souvenir program.
We have three ways to enter and you may do each and every one!

1. Simply leave a comment on this page (below) and tell us if you've ever been to see Blue Man Group.

2. Head over to Facebook and check out the Broadway in Cincinnati page and then come back here and leave another comment saying you did that

3.  Sign up for our newsletter and leave us another comment below telling us you did that too
We will choose one winner (at random using Random.org) on Friday, Oct. 12, 2012. This particular prize pack is for two tickets to see  Blue Man Group at the Aronoff Center on Tues., Oct. 16, 2012 at 8pm.  The winner will receive information about picking up his/her tickets via email.
Pesky details: Each ticket to the show will admit one. We will email the winner at the email address provided. The winner will have 24 hours to get back to us to claim the prize. If we don't hear back from the winner within 24 hours we will choose a new winner. No purchase is necessary to enter or win.  Void where prohibited.
Disclosure: The kind folks at the Broadway Across America in Cincinnati gave us this prize pack to give away.