It's Day 2 / Year 2 of "365 Things to do in Cincinnati" and today I headed downtown to see a helicopter land on Fountain Square.
So, here's something you're not likely to see every day!  A helicopter landing ON Fountain Square!  Yep, the big bird landed right on the Square.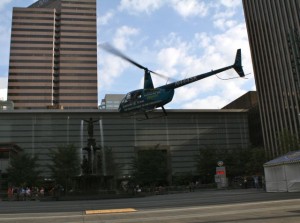 The helicopter was flown by Stratus Helicopters.  Stratus runs helicopter tours of Cincinnati (starting out of Newport) and they are phenomenal.  I took my husband on one for his birthday last year and it is one of my favorite things from my "first 365″.  You can read all about that day here: Day 136 Stratus Helictopter Rides.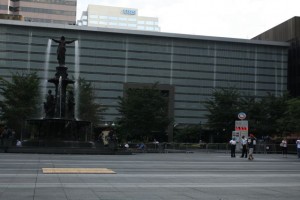 Fountain Square was completely blocked off this morning, surrounded by iron fencing to keep the area clear.  You can see a sheet of plywood in the picture above.  The helicopter pilot would later masterfully land the helicopter right on that make-shift pad.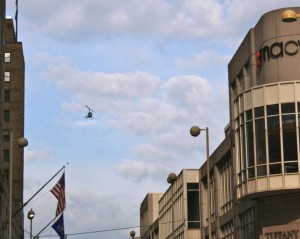 The helicopter approached Fountain Square from the west over 5th Street.  It came close to Macy's and I really wondered if it was going to land on top of that building for a minute.  It was really close.  But then it swung around and made a loop right over my head (see the first picture).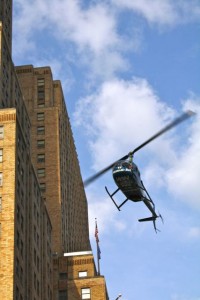 It was an amazing thing to see.  Not only was it a helicopter landing on Fountain Square (which was very cool in its own right), it was an up close and personal landing.  I was surprised when the wind from the helicopter blew us all to bits, making me secure my footing (and fix my hair

).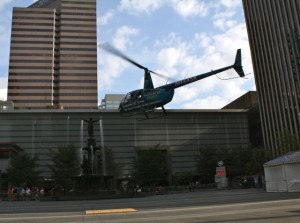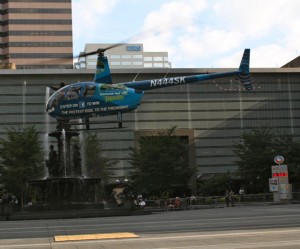 The landing was a promotion for the WEBN fireworks which happen on the Ohio River over Labor Day weekend.  The helicopter is "wrapped" for their contest/giveaway which is sponsored by WEBN and Cincinnati Bell.  You can enter to win a ride to the WEBN Fireworks on this helicopter.  Now that would be arriving in style!  Click here for contest info.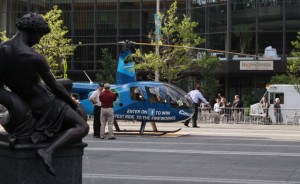 The helicopter will remain on display at Fountain Square today (August 4, 2011) until 4pm, at which time it will take to the skys once more.